DIANA AGUNBIADE-KOLAWOLE
1 juni – 30 juni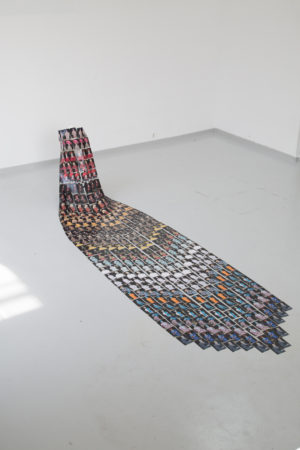 Diana Agunbiade-Kolawole
Drifting
1 juni – 30 juni
Vernissage lördagen den 1 juni kl. 13 – 16
Vi har glädjen att kunna presentera konstnären Diana Agunbiade-Kolawole, som har sin första separatutställning i Lund på Krognoshuset. Här kommer hon att visa fotoinstallationer och väggbaserade verk. Såväl nya som äldre verk kommer att visas på de tre våningsplanen, liksom på fasaden.
 Drifting
Ingenting kan förstöras 
Enligt lagen om massans bevarande kan ingenting som skapas någonsin förstöras, det övergår bara i något annat. Kulturella seder och traditioner kan inte heller förstöras, även de förändras och övergår med tiden i någonting nytt, någonting annat. Nya trender uppstår, blir till nya sedvänjor, nya traditioner. Är det möjligt att en tradition både kan vara statisk och föränderlig, samtidigt?
Diana Agunbiade-Kolawole (f.1988, Nigeria) har sin bas i Stockholm och London. Hennes verk består av fotobaserad konst som – utöver det väggbaserade fotografiet – tar sig uttryck i olika former: installationer, performance, tryck och rörlig bild. 
Agunbiade-Kolawoles har erhållit sin masterexamen vid Kungl. Konsthögskolan i Stockholm och har studerat ett år vid École Nationale Supérieure des Beaux-Arts i Paris. Hon har även en kandidatexamen i fotografi från Kingston University, London. Hennes konst har bland annat visats på Nigerian High Commission, London, Tate Britain, London, Centre Pompidou, Paris, i Stockholm: Thielska galleriet, Färgfabriken, Konstakademien,och Loyal Gallery, Växjö Konsthall, Galleri Format, Malmö och Hanaholmen, Esbo, Finland. 
Brittisk ambassadör för Storbritannien / Kina 400, i ett utbyte för framtida ledare, Kina 2009; Louis Vuitton Young Arts Project Summer Academy, Storbritannien 2010; Multiplicidade Festival, Brasilien 2013; artist-in-residence, Becontree Hundred, London 2015; Brucebo rese- och vistelsestipendium vid Polarforskningssekretariatet i Abisko 2017. 
Förhandsartikel av Skånska Dagbladets Adrian Ericson
Utställningen genomförs med stöd av Brucebo
We are very happy to present our next exhibition with the artist Diana Agunbiade-Kolawole, her first solo-exhibition here in Lund. At Krognoshuset Agunbiade-Kolawole will show installations found on photos and also wall-based work, both new and older work will be on display on all the three floors and the facade.
When one breaks down the meaning of the Conservation of mass from physics into metaphysical context the law of conservation states that nothing is created or destroyed, it merely transitions into something else. What is current is what changes with the fashion, and it is that fashion that become the traditions and customs. It is often a requirement of western cultural institutions to look at minority ethnics artistic expression with an ethnographical microscope without giving way that those artistic expression are just a trend like skinny jeans and crop tops. Is it possible for a custom to be static whilst being fluid? Customs and traditions are not created or destroyed just transition into something else, even with the fear of extinction, nothing is created or destroyed it merely transitions into something else
Diana Agunbiade-Kolawole (b.1988 Nigeria) lives and works between Stockholm and London. Her work utilises both lens and non-lens based photography, and these manifest themselves in a variety of outputs such as installations, performances, prints and moving image. She received her MFA from the Royal Institute of Fine Art, Stockholm, spent a year at École Nationale Supérieure des Beaux-Arts, Paris and completed her BA in Photography at Kingston University.
She was selected as a British ambassador for UK/CHINA 400, an exchange of future leaders, China, 2009; Louis Vuitton Young Arts Project Summer Academy, UK, 2010; Multiplicidade festival, Brazil, 2013; artist-in-residence for Becontree Hundred, part of the 2012 Olympic games cultural legacy in 2015; Brucebo travel grant and Artist Residency at the Swedish Polar Research Secretariat, Abisko in 2017. Agunbiade-Kolawole's work has been shown at, amongst others, the Nigerian High Commission, London; Thielska Gallery, Tate Britain, Centre Pompidou, Färgfabrikan, Konstakademin, Växjö Konsthall, Hanaholmen, Finland, Galleri format, Malmö and Loyal Gallery.
Link to Diana Agunbiade-Kolawole´s homepage 
An exhibition supported by Brucebo.